Create a unique and stunning website with Elementor and one of these highly flexible Elementor addon plugins.
Need to get more out of Elementor?
While Elementor and its pro version include tons of widgets, there are loads of other add-ons available.
Elementor was released back in 2016, and since then, it's only gotten bigger and better. It's now used on over 5 million websites and counting.
You're probably familiar with using Elementor to create pages and entire websites via drag-and-drop. So you'll know that there are widgets available for headings, images, sliders, and more.
The add-ons included here add even more widgets to your site with all sorts of advanced configurations.
Using Elementor and some of the add-ons featured in this collection, you'll be able to build any site you (or your client) can dream up.
Let's have a look at the top WordPress Elementor add-ons now.
Elementor Addons & Extensions
Only highly-rated Elementor extension plugins from trusted developers have been listed here, and each of these plugins has been downloaded the most number of times. Perhaps most importantly, all of them have been recently updated.
Here are the best free and premium Elementor add-ons and extensions.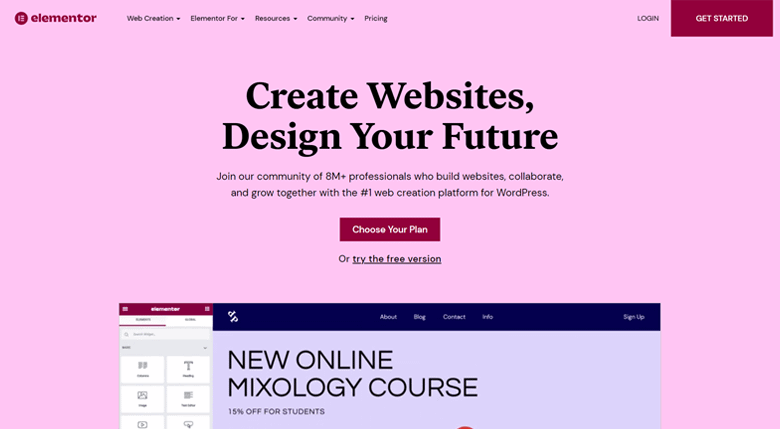 Plugin Description
If you want to unlock the full power of Elementor, the first additional plugin you should check out is Elementor Pro. While Elementor is completely free to use forever, Elementor Pro adds many new options, including more than a dozen new widgets.
With the Elementor Pro, you'll get everything you get in Elementor, plus 30 more widgets. And you can even use every single page template and block in the library, which isn't the case with the free version. This will make it easy to create beautiful new pages since you won't have to start from scratch.
If you're running an online store with WooCommerce, you'll also appreciate the additional eCommerce blocks that let you create your own product and shop pages. WooCommerce-specific widgets include Product Stock, Add to Cart button, Product Meta, and more. And best of all – it has a 30-day money-back guarantee on all plans.
Plugin Description
You can create any design you can imagine using Essential Addons, which has the largest number of installations of any Elementor add-on at over 1 million installs. In addition, essential Addons has both a free and paid version available.
This add-on will power up the Elementor Page Builder with 70+ excellent elements like Call to Action, Contact Form 7, Advanced Menu, etc. And this is what you'll get for free. To get even more outstanding elements like Content Toggle, Parallax Effects, Lightboxes, and Modals, you'll need to invest in the premium version.
All the widgets added by this plugin have the huge variety of customization options you're used to in Elementor so that you can change everything from the colors to the spacing and font. Apart from this, Essential addons for Elementor won't slow down your site as per the speed testing results by various reviewers.
Plugin Description
Premium Addons for Elementor is an outstanding plugin to design your WordPress page and posts more beautifully. Despite the word "premium" in its name, this plugin doesn't cost a thing.
This add-on offers 55+ highly customizable widgets that are fully responsive on all screen sizes. If you want even more complex and responsive widgets for your site, you can check out the premium version, including awesome widgets, such as Lottie Background, Animated Gradients, 3D Hover Box, etc.
Moreover, Premium add-ons provide 330+ pre-made Elementor templates on free and paid versions that you can import with a click. On top of that, it's lightweight and fully modular, so you can enable elements that you're using and disable the rest to optimize your site's loading speeds.
Plugin Description
Elements Kit is an ultimate all-in-one add-on for Elementor. It's an excellent freemium plugin for increasing the functionalities of the core Elementor page builder. The reason being termed as "all-in-one" is that it has Header & Footer Builder, Mega Menu, Widget Builder, and more, all in the same package.
You'll get 40+ widgets in the free version, and those you don't want to use can be disabled. This helps prevent your site from loading any slower. On top of that, they offer tons of options allowing you to customize your website in any way imaginable.
With 250+ ready-made blocks and 7+ homepage templates, you have endless possibilities to design your site in minutes instead of hours. And it has some powerful custom controls for Elementor like the Multi Widgets area, AjaxSelect2, Image Picker, and more.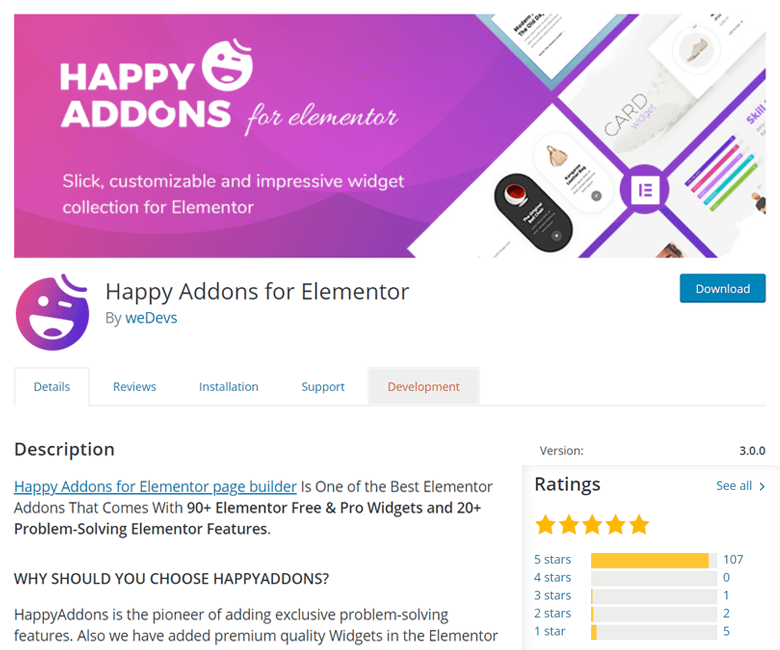 Plugin Description
There are numerous reasons for choosing Happy Addons over other Elementor addons. The number #1 reason is that it has 89 widgets between the free and pro versions, which are highly customizable.
The next most important feature is the option to switch on/off your widgets as you need them. This allows the plugin only to load the essential resources needed, called On-demand Asset Loading, which will keep your site super-fast. Another important feature is the inclusion of 400+ section blocks, along with 70+ Full page Elementor Templates. This will make it extraordinarily easy to add and customize pages on your site.
Lastly, you can create impressive animations for any Elementor widget using the built-in options, and this is a free option too. While the free plugin is quite robust, you should consider upgrading for the additional widgets and LiveCopy feature that makes recreating elements a breeze.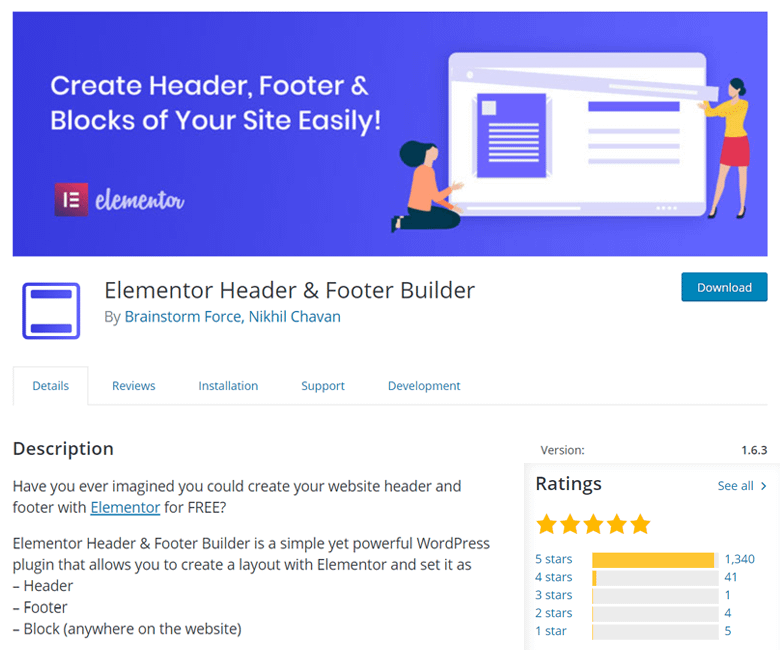 Plugin Description
Create custom headers and footers for your site easily and for free with the Elementor Header & Footer Builder. This functionality is included in Elementor Pro but works with many themes via this plugin too.
With this add-on, you can create any template style for your header and footer. Then this template can be set to any page on the website. This allows you to modify the header and footer for specific pages, which is useful when creating sales pages with fewer distractions.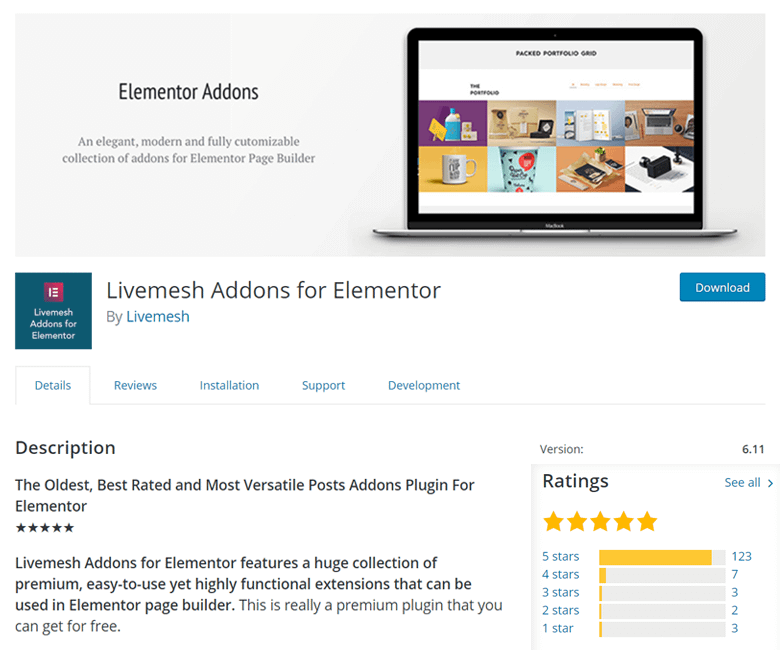 Plugin Description
Livemesh Addons for Elementor is another highly-rated plugin when it comes to extending the Elementor page builder.
The new widgets like the Posts Slider, Post Grid, Portfolio Grid, Posts Carousel, etc., it's a perfect plugin for different types of blogs, online portfolios, and photography sites.
Not only that, the addition of grids for WooCommerce, YouTube, Twitter, and Vimeo makes it for multimedia websites too. Furthermore, these add-ons have a clean and beautiful design that looks good on all the screen sizes, even without any modification.
Plugin Description
Converting your dream design into reality is possible now, thanks to Elementor and the widget-packed Elementor Addon Elements plugin. This fantastic add-on offers 24+ widgets and extensions that'll fulfill all your web design needs.
This add-on offers tons of control and options so you can customize every aspect of each widget. Moreover, you can disable unnecessary widgets to help your site load faster. On top of that, it works with any WordPress theme you're using.
But what makes Elementor Addon Elements special is the compatibility with the WPML plugin, an essential feature for anyone building a multilingual website. Despite having such outstanding features, it doesn't have a pro version available for anyone who wants more widgets or features.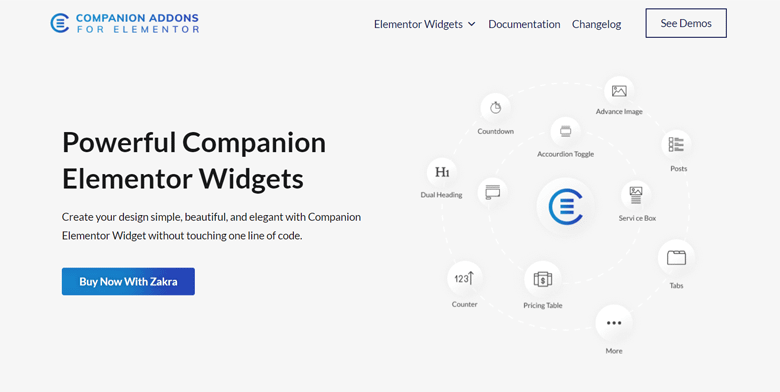 Plugin Description
Companion Addons for Elementor is the perfect companion to the Elementor that will take your website designing experience to another level. It offers 21 widgets with the likes of Media Carousel, Modal, Filterable Gallery, and more.
However, this plugin is only available to Zakra theme users with Personal Plus and all the above plans. So, to use this premium plugin, you'll need Elementor and Zakra Theme installed on your WordPress site.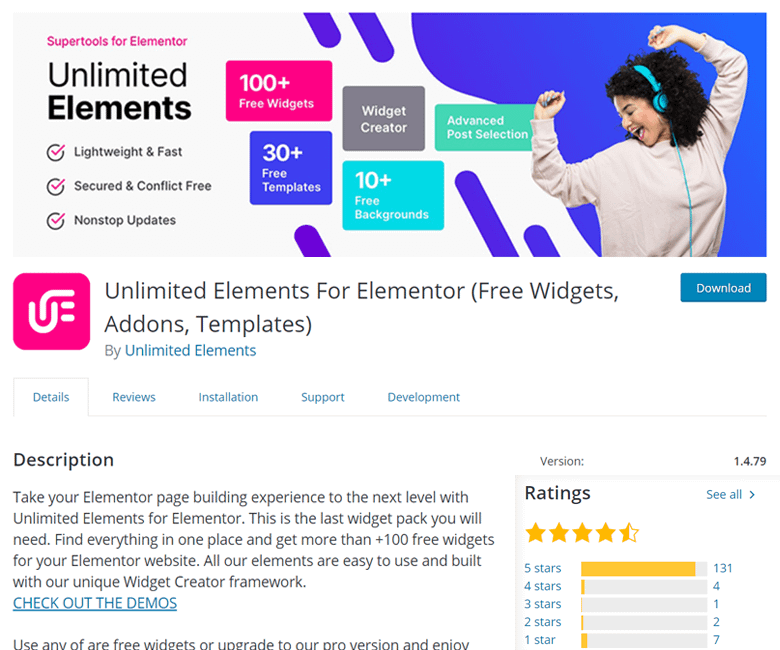 Plugin Description
The Unlimited Elements for Elementor plugin comes with 100+ free widgets. It's easily one of the best if you truly want to add more functionality & flexibility to the Elementor.
There are widgets for WooCommerce, Testimonials, Team Members, Typography, and so much more. Unlike other plugins, it also has a Live Elementor Widget Library, where elements are updated every day.
Still not enough? You can also create your widgets in moments with its widget creator. However, that requires basic coding knowledge. Moreover, you also can enjoy 200+ additional elements if you purchase the pro upgrade.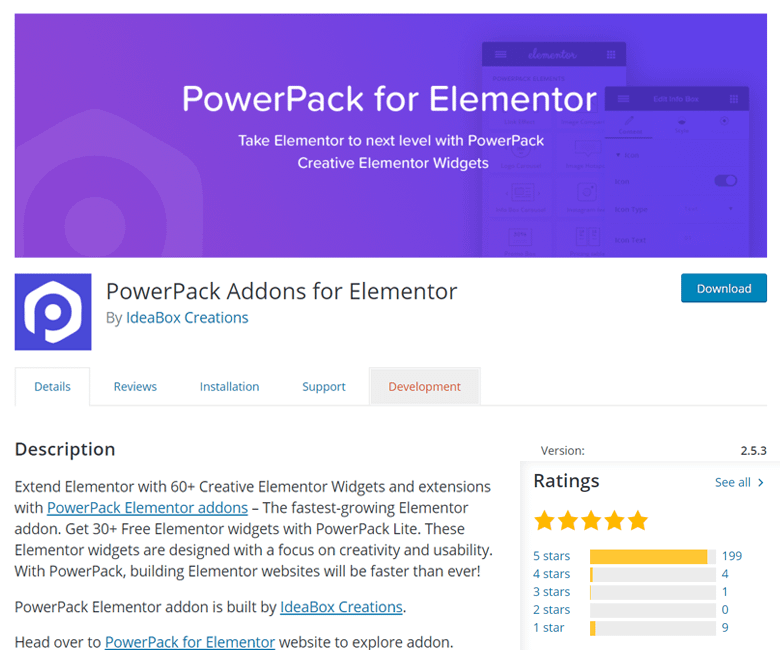 Plugin Description
Built by Ideabox Creations, PowerPack Addons is yet another top extension that opens up design possibilities with the Elementor plugin. It includes 30+ widgets in the free version that you can fully customize.
Self-branding is one notable feature included in this plugin. It offers the white-label branding feature by which you can customize the plugin's brand, making it a great choice for creating websites for clients in a truly professional manner. Besides that, you have more control over the content using its extensive display conditions and rules.
Additionally, PowerPack includes 150+ professionally designed section blocks that make your website building process even faster. It's also lightweight, so you won't have to worry about your site slowing down. Lastly, there's a pro version available at a reasonable cost if you find you need additional elements, and the developers even provide a 14-day money-back guarantee.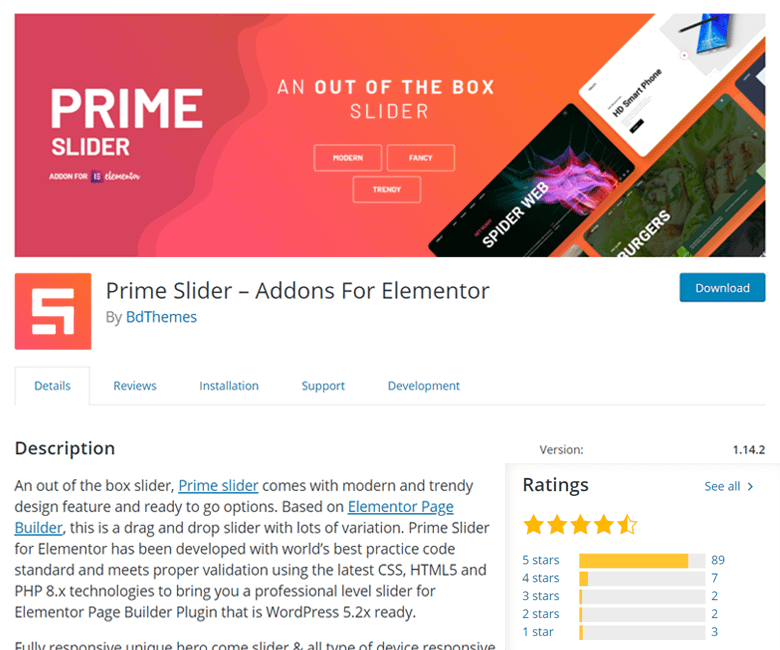 Plugin Description
Sliders are an attractive element for creating a strong first impression. But how about adding a little more visual appeal to them? You can do so with the Prime Slider. It's a dynamic and ready-to-use slider plugin for Elementor that comes loaded with stunning designs.
Slider types include General, Isolate, Blog, WooCommerce, etc. And the best part – everything comes prepared for you, so you only have to replace the media files and the content. Use images, posts, pages, or products to source content for your slides.
On top of that, these sliders adjust well on any device or screen size due to their responsive design, and there are affordable premium options.
Plugin Description
Elementor Custom Skin's primary feature is adding a new skin to Elementor Page Builder Posts and Posts Archive Widget.
Elementor includes the option to output a list of posts, but there aren't many ways to design the individual posts. This plugin lets you style how the posts look, so you can select one of your pre-made skins whenever outputting posts with a widget. Posts can also be referred to as "loop items" since WordPress "loops" through your posts when fetching a list in this way.
The premium version adds options for alternating templates, dynamic post visibility, and more.
Which Elementor Addon is best?
Our goal is to inform you well enough to pick the single best plugin for your site in these list-type articles. So, here are some parting thoughts on which plugin to choose.
Essential Addons for Elementor is a great choice if you're looking for a free addon. It has over 1 million active installs making it a popular choice with a large community of users. It's extremely flexible and has excellent customer support too.
Second up, we suggest Unlimited Elements for Elementor because it offers a myriad of elements, even in the free version. Another thing to mention is the Widget Creator that allows you to create your own stunning widgets.
Apart from this, we also recommend you try out Elementor Pro before looking for other alternatives. It's the official Elementor extension from the creators of the Elementor, so it has 100% perfect integration and includes a lot of valuable customization tools.
We hope this collection of the best Elementor addons & extensions helped you out today, and if it did, please consider using the buttons below to share it with someone else.